Claudia Carroll Bibliography For Websites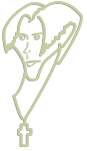 Feature Articles
Updated 17 October 2009
Feature articles are general interest articles about Jim Carroll. Some of them include interviews and reviews and, as such, are also included in the interviews and reviews areas of the site.
Ted Berrigan, "Jim Carroll." Culture Hero, 1969.
Poet Ted Berrigan describes first meeting Carroll and praises his first book, Organic Trains. Also available as a PDF.
Nick Carter. "Linking of 'Basketball Diaries,' Columbine Shootings Upsets Author." Milwaukee Journal Sentinel, May 1999.
This article previewing Carroll's performance at the y-NotII in Milwaukee centers on the Columbine shootings. Includes an interview in which Carroll talks about the tragedy.
Spyder Darling, "Catching Up With Jim Carroll."
NY Rock,
January 1999.
Covering the November 1998 Bottom Line shows in New York City, this feature article includes an interview with Carroll.
Colin Devenish, "Poet Jim Carroll Waxes Lyrical On Return To Rock." Music News of the World, 7 December 1998.
This feature article centers on Pools of Mercury and features comments by Carroll, Anton Sanko, and Lenny Kaye.
Frank DiCostanzo & Michael Workman, "Jim Carroll: Caught in a Trap." Lumpen Times, 8 May 1999.
In this interview following a reading at Chicago's Hothouse, Carroll talks about the historical relationship between poetry/spoken-word and music, the nuances of digital recording, why many of the works in Void of Course are titled "Poem," and his thoughts on death. The article begins with a nice review of Carroll's performance.
Melina Gerosa. "Shooting and Scoring." Entertainment Weekly 5 May 1995: 34-37.
The reporter spent time on the set during the shooting of the Basketball Diaries film. Includes comments by the Jim Carroll and the actors. Download PDF
Claudia Eller, "Cult Classic `Basketball Diaries' Finally > Makes It to Film: Industry's Top Young Actors Have Coveted Project for Years." Minneapolis Star Tribune 30 Jan. 1995.
This feature article provides a lot of valuable information about the background of the Basketball Diaries film and Carroll's feelings about it prior to its release (after which he had a change of heart). Includes excellent interview comments from Carroll.
Laura Fissinger, "The Transformation of Jim Carroll."
Musician, Player and Listener,
February 1981: 16+.
Laura Fissinger's insightful portrait, in addition to relating the usual biographical details, addresses the issue of rock martyrdom--specifically, how Carroll was immediately cast as the new sacrificial lamb in rock mythology. Also available as a PDF.
Fran Fried, "Carroll Has Llittle Trouble Finding the Right Words." New Haven Register 18 May 2001.
Drawing upon a lengthy phone interview, Fried covers a lot of territory in his preview of Carroll's appearance at the Tune Inn in New Haven.
Kieran Grant, "Carroll's Clean Diaries." Toronto Sun, 19 June 1997.
This feature includes an interview in which Carroll talks about his in-progress novels and about heroin.
Barbara Graustark. "Mean Streets." Newsweek 8 Sep. 1980: 80-81.
Describes Carroll's background in the context of his success as an up-and-comimng rock star. Download PDF
Shannon Hanley, "Approaching the 'Speed of Death': Jim Carroll and the Voice of a Dark Poetics." Ace Magazine, 1996.
Previewing Carroll's spoken-word performance at the University of Kentucky, Hanley offers an extremely insightful article focusing primarily on Carroll's diaries. The "dark poetics" Hanley speaks of refers to the way Carroll's search for purity paradoxically leads him towards self-destruction. Hanley writes, "In trying to break free from a society of hypocrisy . . . , Carroll--and so many of his generation--embark on a path that spirals back toward the same destruction they hope to escape."
Karl Irving, "Visions from a Razor's Edge." UC Santa Barbara Daily Nexus, 1986.
Irving's brief but intellligent portrait of Carroll introduces the interview, "Nods of Days Gone By." Both pieces are definitely worth reading.
Liz Kato, "Innocence Lost; Solidarity Found." Exclusive to The Jim Carroll Website.
This is a personal narrative describing Kato's encounter with Carroll backstage before a 1996 performance in San Francisco. In detailing her need to talk about Brian Marnell's death with one who knows (see Carroll's article on Marnell), Kato reveals a side of Jim Carroll we don't often get to see.
Norman Kee, "Night and Day: Jim Carroll." Metroland, 5 October 2000.
Kee interviewed Carroll for this brief article previewing an October 2000 performance at the Van Dyck in Schenectedy. Via a focused interview and tight prose, Kee very nicely encapsulates the major areas of Carroll's work and legend.
Wayne Klick, "Wayne's Weekly Reader." 10 February 1999.
Klick discusses The Basketball Diaries, Void of Course, and Carroll's performance at the Taos Poetry Circus.
Jonathan Lethem, "The First Time I Heard Jim Carroll." Gentlemen's Quarterly, August 2002.
GQ asked nine writers to "remember the first time they heard the music that changed their lives." Jonathan Lethem, author of Motherless Brooklyn, remembers the first time he heard "People Who Died."
M. Patricia Li, "Basketball Diaries Author Bounces Back." Harvard Crimson 11 Feb. 2005.
This feature article in advance of an appearance by Carroll at the Middle East Club in Cambridge, MA, includes a phone interview in which Carroll offers some details about his novel, The Petting Zoo. I haven't made a page for this, but it's available as a PDF.
Lewis MacAdams, "Jim Carroll: Cool Poet." Entertainment Weekly 30 June 1995: 50.
Carroll makes Entertainment Weekly's "cool issue" thanks to the staying power of The Basketball Diaries . . . and a film starring Leonardo DiCaprio. Also available as a PDF.
Joseph Menn. "Jim Carroll, Escape Artist." Boston Globe [date?] 1987.
This is a scan of the newspaper article, available as a PDF.
John Milward, "Catholic Boy." Penthouse, March 1981: 141+.
Even after more than two decades, Milward's feature is the most important article ever written about Jim Carroll. It is based in large part upon an extended interview, definitely the most detailed interview Carroll has ever given. Too bad it was published in a periodical hard to access even in university libraries. Also available as a PDF
Corey Moss, "Surviving Doors Open to Recording with Weiland, Astbury." MTV News, 5 January 2001.
In this article about a Doors "reunion," Ray Manzarek states that he plans to use lyrics written by Jim Carroll.
Chris O'Connor,"Heaven in a Wild Flower." Eye Weekly (1992).
An insightful article that includes an interview with Carroll. Horrifyingly enough (to me), Carroll talks about me! The complete article is also availble as a PDF.
Andrew O'Hehir, "A Poet Half-Devoured." San Francisco Bay Guardian, 1995.
This is one of the most insightful articles on Carroll I have ever read. O'Hehir focuses on The Basketball Diaries, trashes Kalvert's film, comments on Carroll's poetry, and includes interview comments from Carroll. A terrific article. This article is also linked from the Interviews page.
Karla Peterson, "Jim Carroll: From Poet to Rocker--and Back." San Diego Union, 1989.
A preview article for one of Carroll's appearances at the Spirit club in San Diego. Includes telephone interview comments by Carroll; this is the earliest article I have in which he mentions that he is writing a novel. This article is also linked from the Interviews page.
Sean Spillane, "Jim Carroll Speaks His Mind." Connecticut Post, 22 May 2001.
Spillane's article, based on a phone interview, provides a basic overview of Carroll's career, focusing on Runaway EP, Pools of Mercury, Void of Course, and Carroll's appearance at New Haven's Tune Inn. Mostly quotes from Carroll strung together, but not quite a formal interview.
Jerry Stahl, "The Sultan of St. Mark's: Poet Jim Carroll Gives Readers a Dose of the Divine." The Paper, December 1998: 54-55.
Jim Carroll "is incapable of writing a word that doesn't scorch the page," Stahl announces in this feature article centering on Carroll as a poet. Includes a full-page color photo of Carroll. Also available as a PDF.
Louise Thach , "The Basketball Diarist: Jim Carroll Speaks Out." Hudson-Current, 8 March 2001: 54-55.
Previewing an upcoming show at Maxwell's in Hoboken, NJ, this cover story is basically a phone interview presented as a feature article. Carroll talks about Maxwell's, spoken-word and publishing, the Basketball Diaries movie, and his new, younger audience. Quotable quote: "When I stopped heroin, I should have stopped smoking, too."
Alex Williams, "Lord Jim." New York April 1995:65-66.
This "portrait" article covers quite a bit of territory. I haven't made a page for the article yet, but it's available as a PDF.
Articles Lost on the Web
Cindy McGlynn, "Apollo on the Hudson." Eye Weekly, 1996.
Cindy McGlynn, of Canada's Eye Weekly, assesses Carroll's career. Includes an interview.
I'm an early riser. One thing I've noted with authors is that they are all early risers and avid walkers. Because we spend so much time on our own, living in our heads, when we're let out, we just yack. It's like, 'can I get a word in here?' I'm an early morning person. I'd be awake by 5am. I just wake up naturally. The downside is that I usually go to bed very early, at 9.30pm.
Waking hours: With author and actress Claudia Carroll

Independent.ie

I'm an early riser. One thing I've noted with authors is that they are all early risers and avid walkers. Because we spend so much time on our own, living in our heads, when we're let out, we just yack. It's like, 'can I get a word in here?' I'm an early morning person. I'd be awake by 5am. I just wake up naturally. The downside is that I usually go to bed very early, at 9.30pm.

https://www.independent.ie/life/waking-hours-with-author-and-actress-claudia-carroll-31074510.html

https://www.independent.ie/life/article31074509.ece/7f376/AUTOCROP/h342/2015-03-22_lif_7456325_I1.JPG

Email
It's easier to get up when the clocks go forward in the spring, because the mornings are brighter. I have porridge for breakfast, and then I'm usually at my desk by 6am. I've lived on my own for a long time, but lately my parents have been living with me.
They are elderly, and my mum had been going through some health problems. She had cancer in the lining of her womb. It was hell going through the treatment last year, but she responded really well. Thank God, she is doing fantastic now. I live in a mews at the back of their house and the main bedrooms here are on the ground floor, so that made life easier for them. They will eventually move back into their own home, but for the moment, I'm keeping an eye on them. Dad is a GP and he still works four days a week. I'm very proud of him.
When cancer came into our life, I just wanted to wrap my mum in cotton wool. I spent a lot of time in the hospital with her. Anyone going through the treatment will tell you that you feel like you're bringing in an outwardly healthy person on the first day, because they look fine; then, when you bring them home, they get sicker and sicker. The frustration is so hard.
I would bring my mother to hospital, get her home, and then look after her. I was also working at the same time. You tend to compartmentalise. I needed to work, and to park everything else. I think I needed that release. I'd work in the evenings, and get up earlier in the mornings. I was writing a light romantic comedy, which is my latest novel. It's called Meet Me in Manhattan.
Manhattan is one of my favourite cities and it's my mother's too. I bring her over every year; it's our bonding time. We're both great bargain hunters. So, we'd go over with the empty bags, stay in the same hotel and see a show. It's always been our time. The novel is partly set in Manhattan, but Dublin too. It's about the perils and pitfalls of online dating. I'm a single lady, and I did try online dating. What astonished me was the barefaced, unabashed lying that goes on. OK, people knock a year or two off their age and they add a bit to their salary, but then there were some outrageous whoppers. You could say, ostensibly, that I was doing online dating for research, but of course I wanted to meet a guy.
I was single for ages and the stigma had worn off online dating, so I tried it. I used a fake name and didn't include a photo, but all the other details were accurate. I met this guy who seemed like a really good person. He was my own age, had similar interests and we wrote to each other regularly. I started to get my hopes up.
When it came to a time to meet up for coffee, he said that he was only available Monday to Friday, 9am to 4.30pm. I found this puzzling. Then he told me that he couldn't meet me in the evenings or at weekends, because his wife was around. I asked if this was his ex-wife, or was he soon to be divorced - then he told me that he was still very much married. In fact, I think one of the photos he posted was his wedding photo. I went on a couple of dates with men I met online. When you meet someone in person, you get the measure of them pretty quickly, but online you just don't know.
I read about this thing called 'catfish'. It's a term to describe men and women who go online and create fake profiles, and fake everything, in order to lure people of the opposite sex. It's cruel, because they have no intention of having relationships. They do it purely because they can. My novel is about a woman who is catfished by a pilot she meets online, but then she decides to name-and-shame him to get her revenge.
I work from the morning up until lunchtime. This is my 12th novel, and I'm already plotting the next one. I do a book a year. In the beginning, I wrote my novels in the dressing room of Fair City, when I was supposed to be learning my lines. Thanks to that, I'm good at writing through distractions. Noise doesn't bother me. I try to write about 2,000 words a day. When I'm working, I'm in very good humour, but when I don't reach my word count, I get cranky.
I'm a lot more focused than I was in the early years. But the exhilaration of seeing your book on the shelves in shops never goes away. I'm not a mother, but I suppose it's like seeing your baby's face for the first time. I go into Eason's and take a photo of it on the shelf.
I really enjoyed going back to Fair City recently. My character, Nicola, is still as disliked as ever. It was a great story and I couldn't say no to it. I was in Fair City for 14 years, and then I had a break of seven years. I loved being an actress again, even though I was so nervous that my legs were like jelly.
In the afternoons, I go for a massive walk and then I might go to Tesco, the post office, and I do any other admin that needs to be done. Then I'm back at my desk. I clean up the morning's work. In the evenings, I go to the theatre an awful lot and the cinema too. You need to get out and about because it's a very solitary existence, and you live in your head a lot. I love to go out at night. You need human interaction, but it doesn't have to be a late night. I'm very close to a bunch of authors - Sinead Moriarty, Liz Nugent, Monica McInerney and Patricia Scanlan. We're very supportive of each other. We meet up every now and then, and talk about everything but work. It's very important to have that.
In conversation with Ciara Dwyer
'Meet Me in Manhattan' is published by Avon, an imprint of HarperCollins, €16
Sunday Independent
Follow @Indo_Life